Aluminium Services
General aluminium fabrication. Mill finish, tread plates and extrusions.
Aluminium's range of unique properties make it the perfect material for a wide range of building applications – meaning that designers and architects can realise their creative and innovative designs for intricate, stable and lightweight structures without concern of warping or high maintenance costs.
Including aluminium into your building structure is not just about reliability and quality. Aluminium opens up a world of architectural design possibilities that are simply not possible using other construction materials.
Marco Steel specialises in the custom design, supply and fabrication of aluminium for Sydney home renovations. Using innovative materials, approaches and industry leading design principles we can tailor designs for your home that meet even the most demanding specifications.
Unlike other fabrication companies, we are qualified and experienced in all aspects of the design and engineering phase to ensure that we meet and exceed the most stringent building and construction standards.
Our aluminium fabrication are second to none. For a free consultation and expert advice, contact us today or send us an online enquiry.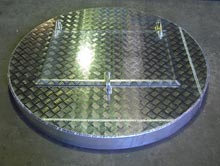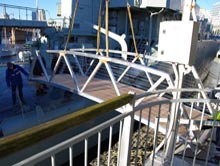 Aluminium Services For a Range of Applications
Examples of aluminium fabrication applications/ customers' requirements: Safety equipment, industrial equipment, posts, frames, plates, trolleys, brackets, stands, racks, platforms, cabinets, displays, bins, crates, rails, channels, racks and fixtures.
Aluminium's properties make it the material of choice for building and construction:

Durable
Aluminium building products are made from alloys that are weather-proof, corrosion-resistant and immune to the harmful effects of UV rays, ensuring optimal performance over a very long lifetime.

Flexible
Aluminium's combination of properties mean that it can be easily shaped by any of the main industrial metalworking processes, including rolling, extrusion, forging and casting, guaranteeing virtually unlimited design potential.

Light-weight
Aluminium's light weight makes it cheaper and easier to transport and handle on site.

Strong
The use of aluminium in buildings assists architects meet performance specifications while minimising expenditure on foundations. Alloyed aluminium can be as strong as steel at only a third of the weight.

Corrosion Resistant
Aluminium's natural oxide coating provides an effective protective barrier against elements that wear other metals.

Insular 
A layer of insulated aluminium siding is four times more effective than uninsulated wood siding, four inches of brick, or ten inches of stone masonry.

Recyclable
Aluminium is 100% recyclable and uses only 5% of the energy used to make the original product. Almost all aluminium used in construction is recycled.
Contact Us For your Aluminium Fabrication needs
Marco Steel has built a name and reputation for delivering exceptional Structural Steel, Stainless Steel & Aluminium Fabrications services to the Sydney market. We specialise in creating steel solutions for a wide range of applications including home renovations, staircases, custom fabrication and architectural steel designs.
We provide our leading steel fabrication and supply services to architects, builders and associated trades throughout Sydney. With a focus on attention to detail, quality and compelling value, trust Marco Steel with your next project.
For a free quote on all new projects and expert advice, call Sydney's leading structural steel fabrication and stainless steel fabrication specialists. Contact us today or send us an online enquiry.